---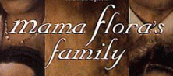 6.26.02 - BRICE'S NETWORK DEBUT TO AIR ON CBS THIS SUNDAY
My first professional acting role came in the form of the 1998 CBS miniseries MAMA FLORA'S FAMILY. This Sunday, June 30th, CBS will be airing it again so that America can relive the magic of my glorious screen debut. In MAMA FLORA'S FAMILY, I appear in the featured role of the Organ Player. In my scene, Booker and Flora are on a date at a silent movie house and I am the Organ Player on stage. I even got a close-up! I appear Sunday night (Part 1) at around the half way mark. So look for me around 10PM or so this Sunday! Adapted from Alex Haley's last novel, this award-winning movie is an epic tale about an African-American family led by its matriarch, Mama Flora (played by Cicely Tyson). Spanning from the turn of the century to the 1970's, the family deals with everything from racism in the deep south to tragedies that nearly rip the family apart. Blair Underwood (with whom I shared a scene), Mario Van Peebles, Queen Latifah and Della Reese round out the cast in the miniseries billed as a continuation of Alex Haley's masterpiece "Roots". I'm proud to say that I've been a part of this project. I played the featured role of the Organ Player - complete with a close-up! A great start. Although my scene was cut from the rental version, Mama Flora's Family is available on VHS and DVD from Amazon.com.

Part 1 of MAMA FLORA'S FAMILY airs at 9PM Sunday, June 30th with Part 2 airing at 9PM Wednesday, July 3rd.

See the trailer!
Internet Movie Database listing
BriceKennedy.com Projects page


5.27.02 - BRICE HEADS TO NEW YORK CITY
I'll be in NYC the week of June 9th to crew the independent film HOLLA. I'll also turn up in small role as a talk show host. The film features many up and coming stand-up comics as well as the talented Mia Amber Davis. Mia is best known for her role in ROAD TRIP in which she played Rhonda, the chubby black chick who shags the geek-boy. Of course, the most wicked thing about all of this is that I'll be working with an actress who acted alongside the iconic Tom Green!

The movie centers around Holla, a washed up comedian who repeatedly tries to revive his tired act. Holla's stand-up career is pretty much over and he's openly resentful of the fickle audience. So when a serial killer is on the loose at the nightclub he plays, everyone looks his way. Did he do it? Did he kill all of those people? Is he a K I L L E R ? ! ?

As I said, although I'm going there primarily to crew the movie, I'll also appear in a few scenes as a talk show host. Mia Amber Davis... Brice Kennedy... Tom Green - what? Only one more degree of separation to go until I meet my hero. This should be one to remember.


5.24.02 - "SHOOTING HOME"
The first feature from New Arena Pictures will be a comedy entitled SHOOTING HOME. Julian Randall is a twentysomething slacker that made it out of his hometown of Morgantown, WV and on to Hollywood to become an acclaimed movie director. SHOOTING HOME chronicles his return to Morgantown several years later. Julian meets up with old friends, family and his high school sweetheart. The cast includes myself, Kimberlee A. Gibson, David Bunch, Alex O'Neal and Mark Holloway with cameos from Morgantown radio personality Eric McGuire and indy film staple Jon McBride.

Click here for FULL synopsis and cast list




5.7.02 - ANNOUNCING NEW ARENA PICTURES!
I've finally named my production company. I chose a name that represents myself. A name that represents my goals in filmmaking. A name that stands out. My production company... is New Arena Pictures. I chose New Arena because I'm branching out from just acting. I'm not only taking my brand of entertainment to the filmmaking arena. I'm taking it to a new plateau...

Creating and sharing my worlds, expressing myself in comedy, drama and however else I choose, playing the roles that I want to play. Welcome to New Arena Pictures.


4.8.02 - BRICE TO LAUNCH NEW PRODUCTION COMPANY, SCRIPT IN DEVELOPMENT
After years of being in front of the camera, I've decided to devote a lot more time to the other side. Indeed, I have been bitten by the proverbial directing bug. So I'm forming my own production company. I've begun putting together the edit bay. I'll be running Premiere 6 on a Pinnacle system featuring real time DV and analog capabilities. I'm shopping around for the DV cam. It'll be either the Canon XL-1S or the Sony VX2000.

I'm currently working on the script for the first feature. This semi-autobiographical comedy will be shot sometime this summer in and around the Morgantown area. The film will be featuring myself in the lead role (but of course) as well as many local actors and will include a cameo by "Mr. LA" himself, Jon McBride. More details including the production company NAME to come!


3.27.02 - DISASSOCIATING WITH FUGU DIGITAL MEDIA
Interesting how cliches seem to ring true. Take for instance the stereotypical all talk and no action, bulls**t director that promises starring roles to eager actors. Well anyway, due to circumstances beyond my control (i.e. complete lack of professionalism), I will no longer be involved with Fugu Digital Media's upcoming projects. I guess I should've seen the road sign that read "dead end".


2.6.02 - BRICE CAST AS OEDIPUS REX IN "OEDY"
Coming up in April, I will be playing the famed King Oedipus of Thebes in the farcical comedy "Oedy". The play takes an interestingly comedic look at the Greek myth of Oedipus Rex, the king that unknowingly married his mother. One of the greatest stories in greek mythology will be transformed/reduced into a "Sophocles meets the Marx Brothers" comedy courtesy of the Morgantown Theatre Company. One of five one-acts showing nightly, "Oedy" runs April 25 - 29 at the MTC Theatre. To order tickets or for more information, contact the Morgantown Theatre Company at (304) 291-MTCO (6826).


1.24.02 - BRICE SIGNS WITH TALENT AGENCY
I am now represented locally by the Morgantown Talent Agency. The new agency is headed by local actress Danette Constantina and showcases talent from around the Morgantown-Pittsburgh area as well as regional acts. This should benefit me mainly in the areas of local commercials and industrials.


12.28.01 - BRICE TO APPEAR IN UPCOMING FEATURE FROM FUGU DIGITAL MEDIA
I've signed on with Joe Dean's Fugu Digital Media out of Philadelphia for his upcoming film. The yet-to-be-named project should begin filming within the next couple of months and as always, I'll post the details here.


11.5.01 - "GORILLA WARFARE" TO SEE DISTRIBUTION
Polonia Brothers Entertainment and Intercoast Productions have landed a distribution deal for their film GORLLA WARFARE: BATTLE OF THE APES. It looks like it will be distributed flat and NOT in 3D as previously reported. Unfortunately, I can't name the distributor or go into details but as soon as I can confirm the info, I'll post it here.


9.12.01 - "THE HOUSE THAT SCREAMED 2" RELEASED NATIONWIDE
After a year of postproduction and much anticipation, THE HOUSE THAT SCREAMED 2: HELLGATE has hit the video shelves! It is available at Hollywood Video stores nationwide as well as many independent video outlets so definitely go and check it out. Directors Mark and John Polonia and Jon McBride are very excited about the release and HWV has said that it is renting really well. I play the role of Devin Manning, one of three parapsycholgists that set out to investigate the haunted house on Wingate Road. The film also stars Jon McBride , Jeff Dylan Graham, Leslie Culton and Bob Dennis reprising his role as Marty Beck.


8.01.01 - BRICEKENNEDY.COM GOES ONLINE
Hooray! Finally my acting site is up and running! I originally wanted to do the quiet launch back in May but, as with acting and filmmaking, delays are practically par for the course. The site is pretty slim on features right now but this bare bones version won't last long. I'll definitely be adding a lot more features in the coming weeks and months.



PAST NEWS

7.27.01 - "THE HOUSE THAT SCREAMED 2" GETS DISTRIBUTION DEAL
It looks like THE HOUSE THAT SCREAMED 2: HELLGATE by the Polonia Brothers and Jon McBride will be picked up by Hollywood Video this fall! The film was shot in October of 2000 and marked my first major screen role. According to the HWV rep that I spoke to, they have picked up about 3600 copies for nationwide distribution! In addition to this, there will be about 1400 copies for independent video store distribution! In the feature, I play Devin Manning, one of three parapsychologists that venture into the famed house on Wingate Road to uncover the secret of the hauntings. The movie also features Jon McBride, Jeff Dylan Graham and Leslie Culton.


7.19.01 - "JOHNNY BADASS"
Michael Miller of Deathsled Productions recently contacted me to play a part in his short film, JOHNNY BADASS (aka "A Night in the Life of Johnny Bad-Ass). This student film is a five minute short shot on Super 8. The film follows one night in the sex, drugs and rock n' roll life of Johnny (you-guessed-it) Bad-Ass. I play a thug (what?) that beats Johnny up for makng out with my girlfriend. Damn rock stars. Michael shot the film for a filmmaking class at Pittsburgh Filmmakers.


6.20.01 - BRICE FINISHES FILMING "GORILLA WARFARE" AND "NIGHTTHIRST"
I recently wrapped filming on two new projects. GORILLA WARFARE: BATTLE OF THE APES is the sci-fi Planet of the Apes-style feature shot in 3D. I've been cast in my first male lead role as Baal, a prisoner of... that's right - the apes. Along with Kimberlee A. Gibson and Jeff Dylan Graham, we attempt to flee and eventually fight our captors. I had a total blast on the set. Working with the Polonia Brothers and Jon McBride is always an awesome experience. NIGHTTHIRST is a horror/comedy kind of in the same vein as Scary Movie (although at times, even more sophmoric). The movie is an anthology which includes five separate stories. In "Tag", I play Hank, a med student who plays the "deadly" game of tag with a cadaver! Both GORILLA WARFARE and NIGHTTHIRST are direct to video releases that should see some distribution in the coming months. I'll post pics and stuff later...


5.11.01 - "THE PIRATES OF I-79" PLACES 3RD AT WV INTERNATIONAL FILM FESTIVAL
The WVU student short, THE PIRATES OF I-79, produced by Justin Hill, Chris Burke and Michael Miller of the The Outlet, took 3rd place in the student film category at the West Virginia International Film Festival in May. The festival, now in its 17th year, not only hosts films from West Virginia, but also nationwide and international releases.


4.30.01 - BRICE CAST AS LEAD IN "GORILLA WARFARE"/APPEARS IN "NIGHTTHIRST"
The Polonia Brothers have contacted me for the male lead in a sci-fi romp called GORILLA WARFARE: BATTLE OF THE APES! It looks like I'll be playing the part of Baal, the hero of the story (although from reading the script I can say that he's not "quite" heroic). I'm also going to be appearing in a feature called NIGHTTHIRST. It's slated to be a horror/comedy and should feature a much bigger cast than most of their projects. Jon McBride is said to be on board for both films.